Acting out of conviction.
Sustainability and social responsibility: our century-old commitment and part of our corporate spirit.
In the international apparel industry, commitment to sustainable corporate governance is a significant competitive factor. It not only characterizes the production plants, but encompasses all areas of the company. Based on this corporate philosophy, Seidensticker is steadily expanding its commitment to sustainability, driven by a passion for shirts and blouses.
PEOPLE
Our most important resource
People shape the future.
Motivated employees are a company's most important resource and therefore THE crucial success factor. They drive quality, innovation, and ultimately growth. In the Seidensticker Group's more than 100-year history, this belief has always coined its role as a medium-sized employer – affecting everything from the selection of staff through training to continuing professional development. Today around 2,600 people work for the Seidensticker Group worldwide and play a significant role in shaping the future of the company.
Gerd Oliver and Frank Seidensticker
Managing partners of the Seidensticker Group

"Producing our products in impeccable production facilities that have been tested in accordance with all safety and social standards has been a matter of course for us for generations."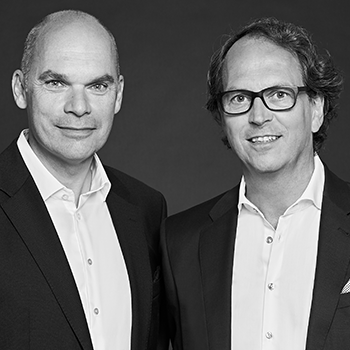 As one of the first clothing manufacturers in Europe, Seidensticker had already established contacts in Asia in 1964, thus laying the foundations for its long-lasting success story. In 1974, a proprietary procurement office was founded in Hong Kong: Seidensticker Overseas Ltd. Today, this office still manages the production activities in Asia, where the vast majority of the products are manufactured. In 2007, the main production facility in Vietnam was opened, followed in 2014 by another production facility in Indonesia.
Seidensticker stands for consistently premium-quality shirts and blouses. With the help of our own technicians and inspectors as well as solid quality standards, this promise has been kept for three generations – both in our own and in external production facilities. Each shirt goes through over one hundred checks until completion and is subject to strict monitoring by our own staff. Seidensticker invests millions of euros in quality assurance each year in order to be able to guarantee the typical Seidensticker quality.
Fair working conditions and the lowest possible environmental impact are essential components of the corporate activities of the Seidensticker Group and are also reflected in its Code of Conduct.
"Only those who share our clear commitment to corporate responsibility can be suppliers to the Seidensticker Group in the long term," says Nico Kemmler, Head of Corporate Responsibility.
The International Labour Organization (ILO), a specialized agency of the United Nations headquartered in Geneva, is responsible for the formulation and enforcement of international labor and social standards. The minimum standards that apply worldwide are intended to safeguard rights at work and thus ensure decent working conditions for everyone in the world.
SA 8000 is an international standard aimed at improving the working conditions of employees (including salaried staff, workers, and temporary workers). Launched by Social Accountability International (SAI), it primarily serves global companies as a minimum requirement for social and labor standards.
The Business Social Compliance Initiative (BSCI) is a non-profit corporate association based in Brussels. It was founded with the ambition to create a common corporate platform for the different European codes of conduct and monitoring systems as well as the basis for a common social standards verification system.
The OEKO-TEX® Standard 100 is an independent testing and certification system for textile raw materials, intermediates, and end products of all processing stages along the value chain.
The Social Fair initiative of finished goods importers strives to ensure for compliance with social standards in producing countries. This objective is pursued without exception by all participating companies, organizations, and individuals, and supported by various measures.
On our own responsibility.
With its core values of quality, continuity, reliability, and excellent value for money, Seidensticker has become synonymous with shirts like no other brand. To this day, the production of shirts and blouses is characterized by a high degree of manual labor. The quality of our production is therefore crucially important for our company's success.
Of a Seidensticker shirt.
With a keen sense for trends, style, and quality, Seidensticker combines perfection and tradition in a unique way. Making each shirt involves 80 steps, from cutting the fabric to laying and packing the shirts. An average of 394 feet of yarn are used when sewing a shirt. In addition, 142 quality checks are performed out on the way to production maturity. A shirt passes through many checkpoints before it reaches the customer.
Sustainably protect people and the environment.
Environmental and climate protection are issues that affect the very existence of all people.
The Seidensticker Group is committed to its responsibility and strives to protect people and the environment in the long term.
We believe that "Everyone can do something," so the concept of sustainability has been firmly anchored in our company for generations.
The priority in the Asian production facilities is to produce sustainably, which means keeping resource consumption as low and environmentally friendly as possible. Thus, we make absolutely sure that no environmentally hazardous chemicals are used. All Seidensticker products are also certified according to the Ökotex Standard 100 and guaranteed to be free from harmful substances in line with our proprietary Restricted Substances List (RSL). These self-defined requirements in the Seidensticker Group far exceed national laws.
The "Cycle to work" campaign kicks off at the company headquarters in Bielefeld every year. This joint initiative of AOK health insurance company and the German National Cyclist's Association (ADFC) motivates staff to cycle to work for at least 20 days over a period of three months and thus to protect the environment. Employees can participate alone or in teams.
Because we care.
Family businesses stand for responsibility and intergenerational identity, for traditions and for forward-looking values and objectives. The owner families are generally involved in social and environmental activities and make a voluntary contribution to sustainable development. In the Seidensticker Group, it is mainly shareholder Nicole Seidensticker-Delius who volunteers in various institutions. She heads the cultural management department and is the point of contact for various partners: